Camden Mela 2021
UNITY COLLABORATION RESPECT & Celebrating Diversity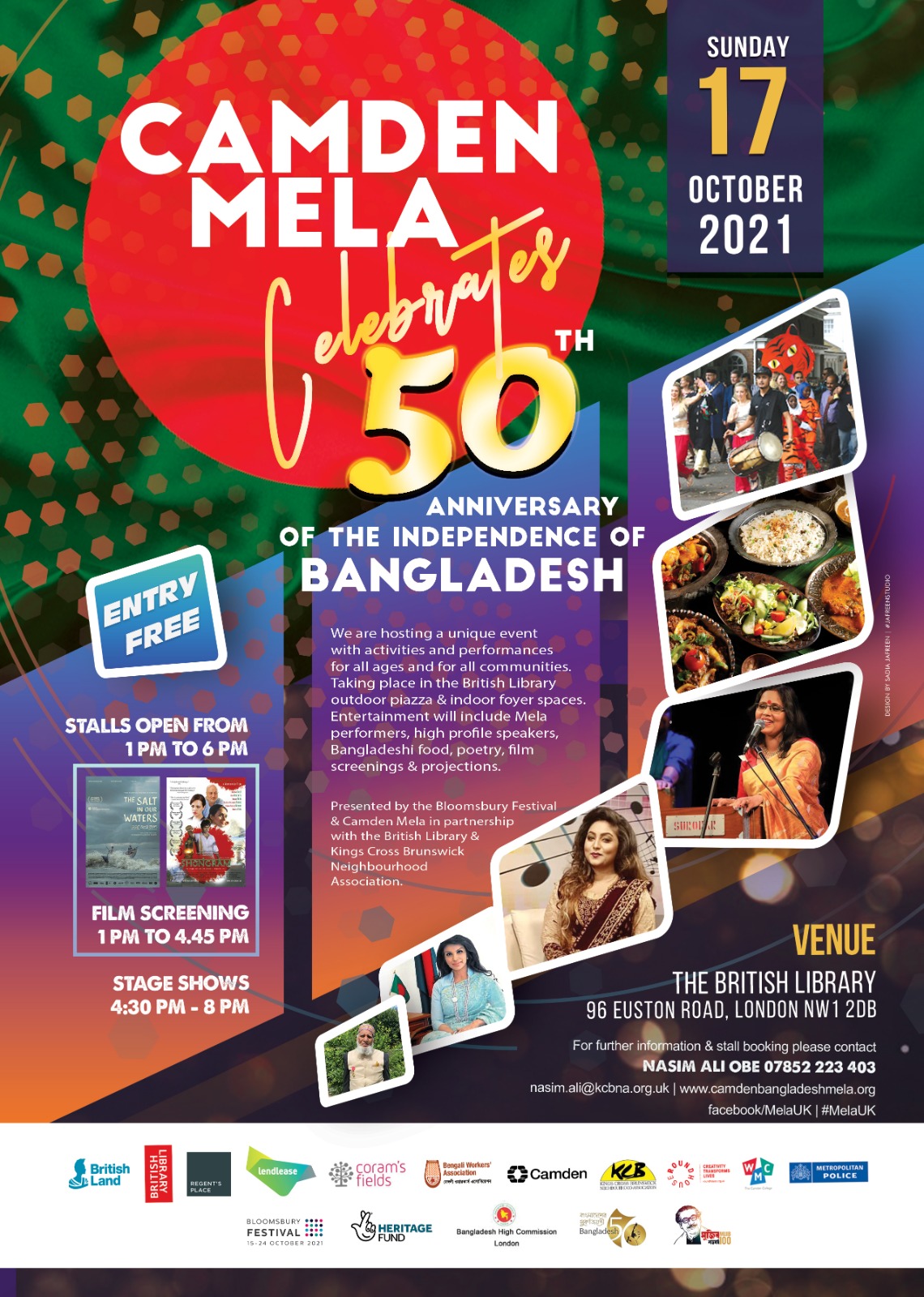 Arts & crafts, food stalls, live music & dance and a funfair come together at this community festival celebrating the richness of British cultural diversity. A marquee will provide health information and advice and there will be plenty of free family activities to keep kids busy.
Date:
Sunday, 17th October 2021
Time:
1:00 pm - 8:00 pm
Venue:
The British Library
96 Euston Road, London NW1 2DB
Direction: Click here for direction
FREE Entry for all
This year's special feature: Bloomsbury Festival, Camden Mela and the British Library jointly celebrating the 50th anniversary of the Independence of Bangladesh. Spotlight is on Bengali culture with music, dance, street food, talks, outdoor light projections and screenings.
Exhibitions – Throughout the day
Silk Banners by Kinetika
An exhibition from the Bangladesh High Commission
Family Activities from 1pm
Various stalls and activities for all the family in the outdoor piazza
Meet a Scientist on the piazza – Want to know what life as a scientist is really like? Bring your curiosity and discover scientists from the Francis Crick Institute outside by the Café. Try out some microscopes, and find out about their lives as researchers and how they got to where they are today!
1pm and 2pm – Vibrant and interactive storytelling session celebrating Bengali culture and identity, with Peter Chand, in the Learning Centre. Limited capacity, first come, first served.
2pm-3pm – Show & Tell of items from the British Library Bangladesh Collection in the Foyle Suite. 15 minute sessions, limited capacity, first come, first served.
3pm – Radio Neighbourhood, an outdoor family dance performance with GhostandJohn
Main Stage – from 4.30pm
4.30pm – Dance performance by Priyanka Basu
5pm – Poetry by Dabirul Islam Choudhury OBE, with readings from young people
5.30pm – Gouri Choudhury, renowned British Bangladeshi singer
6pm – Speeches
6.30pm – Mukul and Ghetto Tigers in collaboration with Tamarind Theatre Company present 'The Rebel'. Poem by Kazi Nazrul Islam, directed by Mukul Ahmed, choreography by Arunima Kumar, dancers – Arunima Kumar, Sriradha Paul and Tulani Kayani-Skeef, recitation by Rez Kabir and Samantha Shuchismita, percussion by Ustad Yousuf Ali Khan and sarangi by Ustad Surjit Singh
7pm – Sharmin Dipu, renowned singer from Bangladesh
7.30pm – Krishna Shil, finalist in The Voice Kids UK 2018
Outdoor Projection – 6.30pm-8pm
A live video projection from street artist Mohammed Ali, shining a light on the Bangladeshi community and the life and journeys of those who chose Kings Cross as home. Supported by St Giles Hotel, Bloomsbury Festival's accommodation partner.
FREE – Just Turn Up
Presented by the Bloomsbury Festival and Camden Mela in partnership with the British Library and Kings Cross Brunswick Neighbourhood Association. This festival event is supported by the National Lottery Heritage Fund.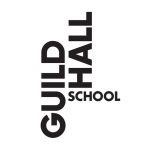 Projection and training in video design skills provided by Guildhall School of Music & Drama.
Bloomsbury Festival 2021
15-24 October
View full programme of festival events here... https://bloomsburyfestival.org.uk/2021-events/
For latest updates keep an eye on Mela Facebook Page
For further information on stall bookings please contact:
Nasim Ali OBE on 07852 223403 or Email: nasim.ali@kcbna.org.uk
---
PAST EVENTS
Since 1992 the Mela Committee has organised hugely successful cultural showcase events in association with various partners within the Main Arena and across the British Museum, British Library, Regent's Park and other venues. In 2011 it coincided with the 40th anniversary of Bangladesh's independence and was a great success applauded by all sectors of the community. The event was and remains open to all locals and visitors to London.

Activities typically include family and adult arts and crafts workshops, dance and musical performances. Display of community arts projects, story-telling, themed gallery talks in the Museum's galleries, and ever popular food festivities.
---
GLIMPS OF THE PAST EVENTS
THE MELA attracting thousands of visitors on Sunday the 4th of July, amidst local and international media, celebrated the cultural cohesion in the heart of bustling London.
. . . . . . . . . . . . . . . . . . . . . . . . . . . . . . . . . . . . . . . . . . . . . . . . . . .
Thousands of people gathered to celebrate the melting pot art and culture of modern Britain in style at The Mela held on Sunday the 4th of July, organised by the Central London Communities.

The Mela is a cross-cultural event for all ages aimed to promote cultural cohesion, integration, and enhance communication and interactions through involvement in various arts and community activities.

People were enjoying the music, dance, artworks, crafts, fashion show, open stage talent show, youth performances, children's activities, health activities, funfair & rides, henna paintings, variety stalls, information stands, stunning displays & exhibitions, and of course the delicious Mela oriented food & drinks!
Some of the crowd can be seen here enjoying performing arts at the Mela 2010 held in Regent's Park, London
The festival took place in London's Regent's Park (and Primrose Hill) – one of the eight Royal Parks visited by millions of Londoners and tourists each year. As well as the legendary guest artist, Mac, from the sub-continent, the main stage included performers from all sections of the local communities.

As usual, The Mela facilitated a dedicated youth stage for the young and ambitious members of the society to show-off their talents and skills – in a recognisable fashion. Indeed, it serves as a spring-board to launch their career in arts and media. An important aspect of this is to channel youth energy into shaping a tolerant and sustainable multiracial and multicultural society for the future.

As our Prime Minister Rt. Hon. David Cameron said at the British Curry Awards "This Britain, this modern diverse, multi racial, multi talented Great Britain – this is here to stay."

In his foreword to the Mela souvenir, patron Enam Ali MBE said: "I realise however that there are real challenges for the future. That is one reason why it is good to celebrate the success of inter communal harmony. Celebrating success helps to inspire others too."
Mac, the guest artist performing at the Mela held in Regent's Park, London
In a message to the Mela committee Mac said: "It does feel good to be in the fold of a lot of wonderful and exuberant people in the UK - much as it gives me great pleasure to be invited to perform with some fine musicians at the Mela."

When asked what differentiates this Mela, the committee secretary Maddy Fisk said: "This Mela is unique in the sense that it is ingrained in the community. It showcases the success and achievements of our women & children, our schools & colleges, our cultural & community centres, and our private & public sector social initiatives. It is inspiring to see the turnout and more inspiring to meet such a variety of different people."

"Through this Mela we are always engaged in promoting public issues such as various Safety initiatives, Mental Health education, social responsibilities, etc." added the spokesperson, Sadia Jafreen.
Samina Dewan (Chair), Jonathan Simpson (Mayor of Camden), Sofina Razzaque (member), Sadia Jafreen (Creative & Media Planning) out and about visiting and enjoying the wonderful arrangements of Arts, Crafts, Stands, Stalls, Exhibitions, and Performances at the Mela 2010 held in London's Regent's Park.
What started as a small Bangladeshi community gathering in 1992, expanded its reach to a London-wide and now nation-wide celebration, backed by well known institutions and organisations such as The British Museum, Royal Parks, British Land, London Borough of Camden, London Design House, The Metropolitan Police, Mary Ward Centre, South Camden Community School, Art Colleges, King's Cross Central, Primary Care Trust, Sky Channels 814 (Channel S), 827 (ATN), 844 (Channel i) and Purple-i Technologies to name but a few.

The committee welcomed everyone to the British Museum from Tuesday 6th July for Exhibitions of community works and on the last day, i.e. Saturday 10th of July, for a dedicated exhibition of The MELA Art Project, dance drama and family activities.
---
The Networking Event organised by the Camden Bangladesh Mela Committee focussed on:
Generating awareness of the Mela's activities and the benefits it brings to the society.

Promoting the Mela to the wider communities.

Raising funds through sponsorship and other involvements.
The Event served as an ideal opportunity for guests & delegates to explore how they can get involved at all levels, whether it be Sponsorship, Joining the Mela Committee, Marketing or Volunteering.

It was an enjoyable evening of celebration and networking whilst being entertained by key speakers, a beautiful and lively dance performance and a colourful exhibition of arts, pictures and videos from the Mela events.

The feedbacks received from all were excellent. People were impressed with the diversity of organisations involved in the Committee and the numbers of volunteers supporting the event, which shows a universal appeal and demand for the vibrant annual event – the Mela.

For further information
contact via email info@camdenbangladeshmela.org